We are committed to being Christ's engaged disciples in the world –
after the manner of Matthew 25:40
"As you did it to one of the least of these, you did it to me."
Stronghold Castle located in Oregon, IL, was built by the Walter Strong family in 1928. It was sold to the Presbyterian Church in the early 1960's and is enjoyed by many as a Christian Camp and Conference Center.
Stronghold hosts Summer Camps for youth and offers seven buildings that can accommodate guest sizes of 6 up to 56. It is a wonderful location for seminars, business meetings, development programs, picnics and family reunions.
Stronghold grounds include many hiking trails, challenge courses, camping areas, frisbee golf, a pool and much more. Take a trip to Oregon and enjoy the beauty of Stronghold!
Agave Presbyterian Church – Village of Agave, Ghana
For twenty years we have supported Presbyterian churches in the region of Acra, Ghana. Led by David Kportufe, a native of Ghana, and a team from the church, we have provided for pastoral staff, buildings, and supplies for teachers and their students.
Presbyterian Women's Association
Forgiven and freed by God in Jesus Christ, and empowered by the Holy Spirit, we commit ourselves to nurture our faith through prayer and Bible study; and to build an inclusive, caring community that strengthens the Presbyterian Church (USA).
The women of Third Pres. get together the second and fourth Wednesday of each month to work on
quilts for those in need. If you can sew, cut fabric or thread a need
le,
they would be happy to have you join them.
Afterwards, they share a delicious meal with the men's Bible study group.
Night Crusaders Mission trips
God uses short-term mission trips to make a long-term impact on the lives of those who serve.
The Night Crusaders youth group in comprised of high school students who, since 1986, have been participating in weeklong mission trips at Presbyterian Church Camp and Retreat Centers throughout the United States. These mission trips are filled with opportunities to put the students' faith into action and return home with lifelong memories and a renewed excitement for Jesus Christ. Our mission is to bring the youth together, to broaden their perspectives, to empower them and to strengthen their love in the Lord through the mission work we perform at the camps which in turn will make the camp an enjoyable and acceptable place for all to gather and worship.
Our mission is to expose the youth to the needs of others and to teach the youth how to help with those needs. We work with the camps to become more appealing, accessible and safer for all by doing projects thought the camp. We accomplish this task through maintenance initiatives such as painting, staining, grounds keeping and raking, gardening and trail clearing. We have also built decks, wheel chair ramps, screen in porches, torn down old unsafe outbuildings, created new tent sites, defined pathways and installed railings and signage.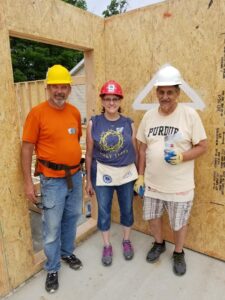 We are very fortunate to partner with Habitat for Humanity to help families build
affordable

homes
in our community. This gives us the opportunity to gather with friends and neighbors to help during the building process. We also provide lunches for the volunteers. Volunteers do not need any special skill.
There is a job for anyone. Come volunteer and help Habitat build and spread God's love.
Fremont Street Community Garden sponsored by TPC
Neighbors of the church are welcome to plant and garden in a set of raised beds adjacent to the parking lot at Brown Ave. and Fremont Street.
Rock River Valley Food Pantry
The RRVFP helps to fight hunger in the community by providing food for those in urgent need. They provide 3 to 4 days of groceries for each person. Clients may use service once a month. Me
mbers of Third Presbyterian Church bring non-perishable food items for the Pantry and leave them in the grocery cart at the church. These are regularly taken to the Pantry by volunteers. The church also supports the Pantry with monetary gifts.
Soup Kitchen
Emmanuel Episcopal began hosting a soup kitchen in 1981 as an outreach of the church, in response to the growing number of homeless, mentally ill, and the needy of downtown Rockford. Since its inception, the soup kitchen serves at least 150 lunches every Saturday. The soup kitchen efforts are supported by 16 organizations of all faiths from across Rockford. Hosting responsibilities are rotated among the 16 organizations that support the soup kitchen.
Volunteers plan the meals, purchase the food, prepare the meal, help set-up the serving and eating areas, greet the guests, serve the food, and offer warmth and compassion. Third Presbyterian Church hosts the pantry three times a year.
The volunteers working the soup kitchen are the truly blessed. Giving to the Lord through this outreach, great fellowship, and witnessing the appreciation of hungry, and less fortunate people, help you to see life is good.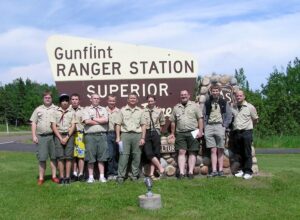 Scout Troop #23
https://www.troopwebhost.org/Troop23Rockford/
For over 87 years, Troop 23 has been an active part of the Rockford community and the Third Presbyterian Family. Over 75 Eagle Scouts have been nurtured, while hundreds of other young men's lives have been altered through faith, friendships, and responsibility. Troop 23 actively develops youth through weekly meetings, canoeing, camp-outs and many learning and work projects as the youth attain merit badges. Our Third Presbyterian family are very impressed with the leadership and spiritual guidance given to tomorrows' leaders.